Automated Tilt Series Acquisition with SerialEM
Boulder Laboratory for 3-D Electron Microscopy of Cells
Tilt Series Acquisition with SerialEM
Program Features
Highlights of SerialEM 3.3
Availability of SerialEM
SerialEM and the Microscope
SerialEM Discussion List
Other Helpful Materials
Download
Tilt Series Acquisition with SerialEM
SerialEM is a program to acquire tilt series for electron tomography on Tecnai and JEOL microscopes. It uses an approach based on prediction of specimen position during the tilt series from the position at previous tilts. It does not count on the microscope or the specimen being particularly well-behaved, so unless a prediction appears reliable, it falls back to measuring and adjusting defocus and/or specimen position when necessary. With this method, it achieves both the robustness of the older approach to tilt series acquisition (track and focus at every tilt) and the speed of the newer precalibration approach. A 2Kx2K, 1 degree tilt series can be acquired in about 45 minutes with a single-port readout camera or 20-25 minutes with a four-port readout camera.
The method and the program are described in this paper:
Mastronarde, D.N. 2005. Automated electron microscope tomography using robust prediction of specimen movements. J. Struct. Biol. 152:36-51.
The prediction method was first described in this abstract from the 2003 MSA meeting,
Mastronarde, D.N. 2003. SerialEM: A program for automated tilt series acquisition on Tecnai microscopes using prediction of specimen position. Microscopy and Microanalysis Vol. 9, Suppl. 2, 1182CD.
Program Features
In addition to automating tilt series acquisition, the program provides an integrated user interface for image acquisition, display, and storage. It looks like this: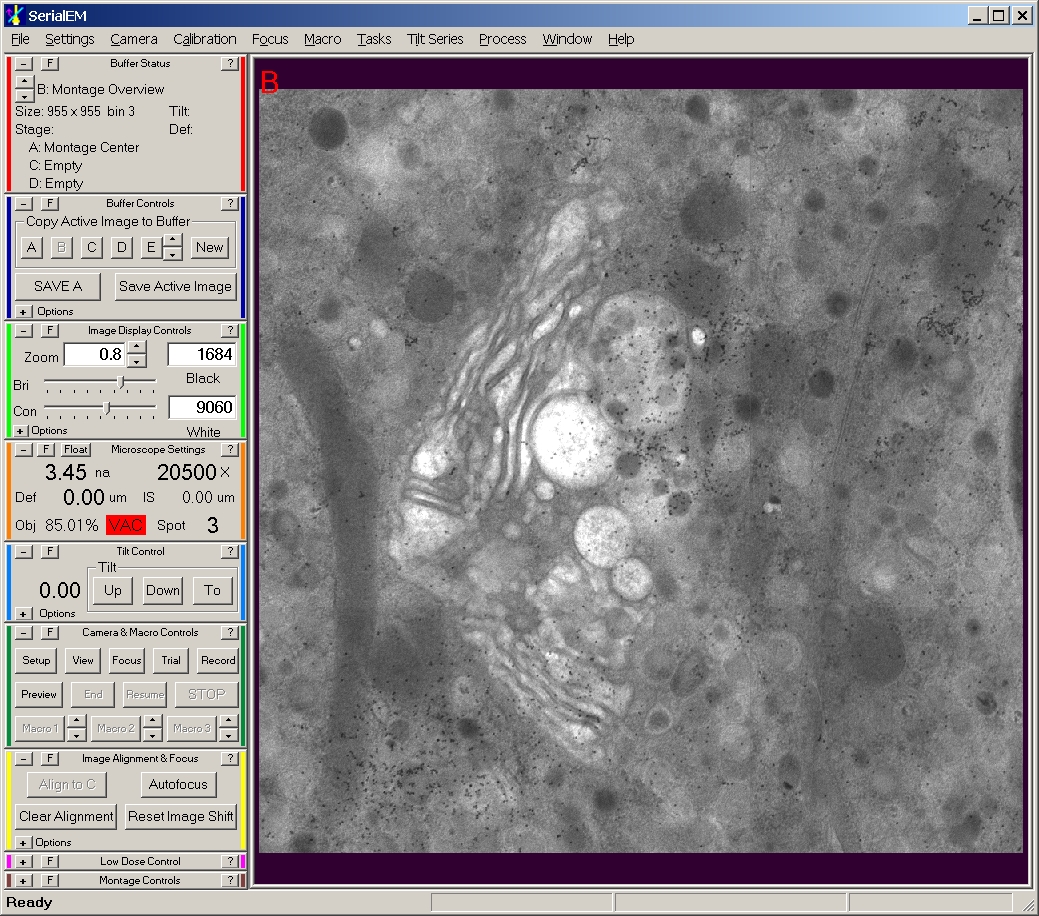 Other notable features include:
The program provides a flexible interface for user intervention: the user can stop the tilt series if necessary, adjust position or focus, and even conveniently back up to a previous tilt angle and replace the stored data from that point onward.
There is a low dose mode, in which focusing and tracking are done in a separate area to minimize exposure of the area being recorded. The program allows one to set up the magnification and illumination independently for up to 4 different areas, where these settings are invoked simply by taking a picture of the particular area.
SerialEM can automatically acquire a montage of overlapping frames, and it can acquire a tilt series of such montaged images. The images are written to a single file that can be viewed immediately in 3dmod. A montaged tilt series can be processed with the eTomo interface in IMOD.
SerialEM can also acquire energy filtered images through a Gatan Imaging Filter (GIF) or a JEOL omega filter. It implements several features to make the GIF more convenient to use, such as automatic switching between regular magnifications with the viewing screen down and the EFTEM lens series needed to use the GIF with the screen up. Both low dose mode and montaging can be used with the filtering.
There is a Navigator window that allows one to store and return to specimen positions, make low-magnification maps, mark positions on maps, and automatically acquire images or montages at a series of marked positions.
The program includes a scripting capability (called macros). It has been useful mainly for program development and microscope characterization, but could be used to automate non-standard operations, such as taking pictures at several defocus levels at each tilt angle.
The operation and configuration of SerialEM is completely documented in a a Windows compiled HTML help file which you can download or browse from a Windows machine. In addition, you can access this help in HTML format. These on-line HTML files are continually updated for the development version of SerialEM and will often show features that are not in the current release version. There is also a pdf file of the help, although this is least likely to be up to date.
Highlights of SerialEM 3.3
The most notable features of the latest release, SerialEM 3.3, are:
Low Dose View offsets in shift and defocus are now handled properly when using View images for mapping and realigning to a position.
Montages can be taken with View mode in Low Dose and maps taken in this mode work for realigning.
Backlash is handled explicitly in the Navigator, with the backlash when a montage was acquired applied when moving to a point on that montage. A backlash adjustment can also be obtained when acquiring a single-frame anchor map, so that same backlash can be applied when repositioning with those maps.
The program keeps track of when a map was taken at exactly the same stage position as an item to be realigned to, so it will use an anchor map for realigning even when it is located over an earlier, larger montage map.
Some changes in correlation procedures make realign to item more reliable.
There are new Black and White sliders to make it easier to adjust the range of intensities being viewed; they are like the Low/High sliders in 3dmod when it loads data as integers.
Features of more specialized interest:
There is full support for the features of the K2 camera, including counting, and super-resolution modes, and dose-fractionation with alignment of frames in DigitalMicrograph or saving of frames from the K2 computer by the SerialEM plugin to DigitalMicrograph.
The use of illuminated area for intensity on the Titan is handled better, including the dependence of illuminated area on condenser aperture.
Availability of SerialEM
SerialEM works on both modern FEI microscopes (Tecnai, Titan, Spirit) and JEOL microscopes with the TEMCON interface (e.g., 1400, 2100, 2200, 2500, 3100, 3200, ARM200). The program is built and tested with the version 3 of Tecnai but it apparently still works on a G1 Tecnai.
SerialEM works with CCD cameras from Gatan, TVIPS (Tietz Video and Image Processing Systems), FEI, and AMT, and some cameras from DirectElectron and OSIS (Olympus Soft Imaging Solutions). Direct detection cameras from Gatan, FEI, and DirectElectron are supported. We have extensive experience with several models of Gatan cameras. Many other labs are using the program successfully with FEI cameras and various models of Tietz cameras, and a few labs are using AMT cameras. Some OSIS cameras work through a plugin available from OSIS.
Program and configuration files are available on our ftp site. Follow the instructions in the README file to get started. Your first step is to fill out the questionnaire and send it to David Mastronarde, who will prepare an initial configuration file.



Installations on new JEOL microscopes are usually done with the assistance of Jaap Brink from JEOL, so he should be contacted in those cases (jbrink at jeol dot com).
This software is provided free for non-commercial purposes. By downloading the software, you agree that you will use it for research rather than commercial purposes, and that you will not distribute it outside of your own institution.
SerialEM and the Microscope
SerialEM is written in Visual C++ using Microsoft Foundation Classes (MFC). It controls FEI microscopes using the TEM scripting interface; this must be installed and activated for the program to work. There is an installer script but no formal Windows installation procedure; the program is essentially just placed on the computer and run. SerialEM obtains images from DigitalMicrograph using a plugin that is placed in a Gatan Plugins folder and registered with the system. It obtains images from Tietz cameras using the CAMC4 module provided by TVIPS; from FEI cameras through the TEM scripting interface; from Direct Electron cameras through an interface to their server program; from AMT and OSIS cameras through modules supplied by them.
The program has been used exclusively for data acquisition in our lab since May 2002. It currently runs over 3000 hours per year on our two Tecnai microscopes and has been installed on over 110 FEI and 90 JEOL microscopes. There has been no history of it impairing the operation of the microscope hardware or software, or the operation of DigitalMicrograph. If necessary, it can be run on a support computer and control the microscope over the network, as long as it is the same computer that hosts the CCD camera.
SerialEM Discussion List
The SerialEM discussion listserver provides a means for users and people managing the program to ask questions and share their experiences, as well as a way to receive notification of new releases and other news. The list is not moderated, but joining requires approval.
To subscribe to this list, send a message to listproc@lists.Colorado.EDU with the contents of your message being:
subscribe serialem your-full-name
where your-full-name is your name, including spaces. After your request is reviewed, you will be added to the list and receive an email with more instructions on using the list.
To remove yourself from the list, send a message to listproc@lists.Colorado.EDU with the contents of the message being:
unsubscribe serialem
To access the list archives, see these instructions.
Other Helpful Materials
A copy of 3dmod and associated files that can be run on Windows without installing IMOD or Cygwin is available here. The package unpacks to C:\Program Files\3dmod and a shortcut can be set up to run 3dmod from there. The package also includes midas, which can be useful to have on the microscope for checking rotations between magnifications.
Our YouTube channel has a series of videos of the lectures on SerialEM presented in a webinar in September 2012, plus some tutorial videos prepared by Cindi Schwartz.
Here are some training documents written by Cindi Schwartz, to provide concrete guidance for doing room temperature and cryo tomography.
Here are Powerpoint presentations from a workshop on SerialEM given in December 2006. The slides have a lot of words, but there are many fewer words than in the help manual, so they may be helpful by highlighting the most important points.
And again, here are the: